Version History
Latest News (01/September/2019) - more QuickFolders Thunderbird 68 Compatibility
QuickFolders 4.16 adds even more changes to support the latest version of Thunderbird - the next ESR period (2019-2020) is starting this month. The release version is already published and will be pushed out as autopmatic update to users soon. Latest changes include:
[4.16] The quickMove / quickJump box had stopped working. 4.16 fixed it and brings back the automatic suggestions that are shown during typing a folder name.
[4.16] Subfolder menus do not expand - A regression has caused subfolders (2nd and higher level) not to be expanded on the drag / click context menus of the folder tabs.
[4.16] Fixed: creating new subfolders from QF menus fails because XPCOMUtils.generateQI was removed.
[4.15.4] Fixed broken functionality of dialog buttons (Cancel, Ok didn't close dialog).
[4.15.4] Remember last opened panel in options dialog.
[4.15.4] Fixed syntax for module import (Services.jsm, PluralForm).
[4.15.4] Fixed broken notification panels.
[4.15.4] Replaced prefwindows with dialogs.
[4.15.4] Use newer preferences script.
[4.15.4] Replace groupbox elements with html fieldsets.
[4.15.4] Use new promise-based AddonManager object.
Note that any versions uploaded at mozdev.org will from now on be restricted to only contain an English and German locale, as there is a hard limit for attachments of 1000 Kbyte.
Premium Feature: quickJump
A super quick way to find folders and Tabs by entering part of their name:
Click on the quickJump button (or use the configurable keyboard shortcut SHIFT+J in QuickFolders Pro):



A Search box opens where you can type a folder name and hit [Enter]. Or hit the [Down] key or mouse to select from the list of suggestions.



If exactly one matching folder is found Thunderbird will jump to it immediately. If multiple folders match a dropdown will show. Selecting the folder (or tab) name will jump to the folder.
Select Find Folder from the menu again if you want to hide the search box.
Premium Feature: quickMove
Uses the same button for moving mails to any folder:
Simply drag some mails up to the quickJump button (or use the configurable keyboard shortcut SHIFT+M in QuickFolders Pro), and then type the name of the target folder. The name is shown in red to indicate that mails are going to be moved. Note that you can gather mails multiple times and even from different folders - the mails won't be moved to the destination until you click on the suggestion on the search box.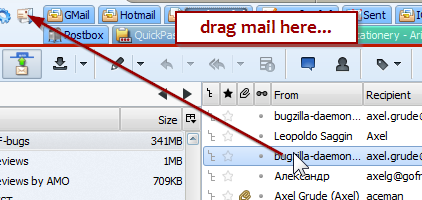 Start typing to get relevant folder suggestions: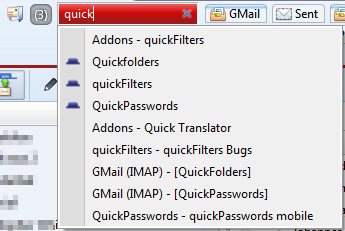 Clicking a folder name will move the dragged emails to the new destination and complete the quickMove operation.
You can also use this button for jumping to a folder by clicking it (quickJump).
The Escape key will hide the red box temporarily. You can right-click the button to display more options and the list of emails that are lined up for moving:



You can open the emails in a tab by clicking them.
Major Features
Palette Types
It is now possible to select independent palettes for the different tab states selected / hover / dragover / uncolored.:


this way the signalling of important states (such as the current folder) can be made to stick out so it can be located much more easily.
Also the new architecture of palette options makes it easier to add different palettes in future versions.
---
Older Versions, Beta Versions
Older versions can be downloaded here, although I do not recommend it; also you can download some of the betas that I am generating when I fix ongoing issues. Some of these might also be on bugzilla as patches.
I usually fix bugs fairly quickly but you might find some of these buggy - you have been warned:
http://downloads.mozdev.org/quickfolders/
---
Version Details
All dates are displayed in UK format: dd/mm/yyyy - you can request any version that is marked as not released or any old version listed; just send me a personal email from the quickfolders options dialog / on the Support tab - [(Jump to Screen Shot)].
This is the new version whis is compatible with Thunderbird 78.

We are currently working on a compatible version - this will be officially published on ATN very soon!
To install QuickFolders in Thunderbird78 go here: Release 5.0pre116 and download the xpi file from the assets box below. Then drag the file into Add-ons Manager to install it.
In order to maintain full functionality, this Add-on had to be rewritten as a mail extension with experiment API, which will require full permissions on installation. As regards being allowed to do stuff, it is actually not different with any classic Add-on: they always had full access to all functions within Thunderbird. The modern mail extensions will have much more tightly managed permissions - eventually QuickFolders will also use this more modern approach - but the APIs for this have to be created and accepted by Mozilla first.

[issue 35] "Skip Unread Folder" hides "Add star" function...
the Shortcut for skipping unread folders works even without pressing the Shift key
Reading list: jumping to a moved mail should bring up a search dialog (which it does). Unfortunately that isn't filled with meaningful search conditions - I think this needs to be rewritten pretty much to work asyunchronously.
Thunderbird 78: We alread have compatible pre-releases available - please check the entry above for links!

I am currently paying somebody to migrate all my Add-on support sites away from the free host on mozdev.org, which is going to close operation end of June. To keep having support sites and ongoing development, please buy a license (the migration cost me $650, so there are some expense I hope to recover from the community of users).

I will also have to rewrite all mail Add-ons as web extensions, which is currently not yet possible as all necessary APIs to replace the deprecated tech has not been implemented. As in between step I plan to release QuickFolders as a "web experiment" for Thunderbird 78+ but this will take a few weeks of work. If you are interested in using a version of QuickFolders that works with Thunderbird 78, buy a license to support the project.

FIXED IN 4.18.1:
[issue 34] [issue 20] Option to make QuickFolders appear at the Bottom of Other Toolbars


The new setting Advanced / QuickFolders Bar Position can be used to change the order of toolbars to push the QuickFolders bar further up / down in case other 3rd party toolbars are used. Set to 0 to have the toolbar at the top, 100 should work to push it below all other toolbars.

The default is now set to make QuickFolders appear at the bottom of the mail tools again.

QUICKFOLDERS PRO - SUMMER SALE

Save 40% on the regular price and support the QuickFolders project on Summer Fortnight June 4th extended to July 4th. Extended by popular demand, this deal will only be offered for this limited time period, to give you too a chance to support the QuickFolders Project.

Support the future of QuickFolders and enjoy unlimited Premium Features. You can purchase a license from QuickFolders options, using the QuickFolders Pro tab. It's super easy and helps future proof this Add-on. Use QuickFolders Pro on as many Thunderbird installations as you like as long as it has your registered email address on it.

Install the latest QuickFolders version and then click the Buy License item from the QuickFolders Pro tab on the Options dialog. If you prefer, you can also go to the web shop directly: FastSpring Web Shop

[issue 27] Drag to Create New Subfolders from tab could create unexpected results, if the entered folder name contained spaces. The space (and possibly other non-ASCII characters, such as Umlauts / diacritics), would be url encoded (Space = %20) and could lead to failure of moving the mail or duplicated folders or non-working QuickFolders tabs.

This problem was reported during the thunderbird 68.* release cycle so the fix may affect older versions of Thunderbird negatively. For user of older Thunderbird versions the behavior can be reverted by using the configuration setting: extensions.quickfolders.newFolderCallback.encodeURI = true

[issue 18] Allow single-key keyboard shortcuts for Navigation. You can now configure to not require holding down Shift

[issue 3] Mark messages READ in folder and all its subfolders tree "in one click".
You can add the command on the Advanced tab of QuickFolders settings

Please note that there is no confirmation dialog, this will really mark the folder's and all subfolders' E-mail to "read" - there is no Undo!

Removed unnecessary error console warning from simplified setElementStyle() function.
Added Alt + [Up] as possible navigation shortcut to go to parent folder.
Extended Alt + [Left] and Alt + [Right] shortcuts to go to the next sibling folder if no QuickFolders tab is selected. If a visible QuickFolders tab is selected, then the next tab will be activated, as before - for these features the corresponding Keyboard Shortcuts choice on the QF General Options tab has to be activated:

Sometimes the current folder bar shows an incorrect subfolder menu (from a previously visited folder) - fixed by forcing it to rebuild every time a different folder is visited.

[issue 14] Gray area shown below email list when starting Thunderbird in wide view with Current Folder Toolbar hidden.
[issue 15] Current Folder Bar background styling is ignored in Thunderbird 68
[issue 16] Avoid showing current folder toolbar at bottom of screen in column view. Ideally it should be shown as vertical bar between thread pane and preview.
Improved label color for Renewal button.
Completed translations for Spanish, French, Polish, Brazilian, Russian and Swedish users. If you have any suggestions for improvements please contact support or join the official translators team on Babelzilla

QUICKFOLDERS PRO - BLACK FRIDAY WEEK SALE

Save 50% on the regular price and support the QuickFolders project on Black Friday Week November 30th - December 6th. This is a unique deal which will only be offered for this limited time period, to give you too a chance to support the QuickFolders Project.

Support the future of QuickFolders and enjoy unlimited Premium Features. You can purchase a license from QuickFolders options, using the QuickFolders Pro tab. It's super easy and helps future proof this Add-on. Use QuickFolders Pro on as many Thunderbird installations as you like as long as it has your registered email address on it.

Install the latest QuickFolders version and then click the Buy License item from the QuickFolders Pro tab on the Options dialog. If you prefer, you can also go to the web shop directly: FastSpring Web Shop

Maintenance release 4.17.2 - 21/11/2019 - for main changes see below

[Issue 13] Thunderbird 68 regression: Cannot modify From and To addresses using Advanced Tab Properties.

Maintenance release 4.17.1 - 06/11/2019 - for main changes see below

[Issue 11] Thunderbird 60 regression: 4.17 - No results are shown in quickJump / quickMove when typing in Thunderbird 60.9; this s a regression caused by moving the search panel to a separate xul file (necessary for compatibility with Thunderbird 70, where search boxes are replaced by an new XUL element).
[Issue 9] Thunderbird 68 regression: the shortcuts combinations SHIFT+S, SHIFT+M, SHIFT+J are accidentally executed when typing in the quick filter search field and do not enter as uppercase letters in the search box as expected. This is caused by some input types have changed in Thunderbird 68 following deprecation of XUL elements.

Release 4.17 - published on 05/11/2019

[Bug 26683] New Advanced tab property - Option to set dragged / moved emails to UNREAD.
[Bug 26703] Add option to hide mail commands popup menu.
[Issue 10] QuickFolders 4.16 doesn't validate the license if no default identity is defined. Normally we will see an error message but in this case we only see the following messages in the Javascript error console:
Error in QuickFolders.Options.decryptLicense():
logDebug is not defined quickfolders-register.js:552
[issue 7] font color in striped mode ignored on colored tabs.
Tb68 regression: number fields are displayed too wide and with unnecessary paddings which may lead to legibility issues after preferences.css had to he removed.
[issue 8] in Thunderbird 70, the label is removed on right-clicking a tab. Also, the quickJump and quickMove functions stopped working. I highly recommend using the current release version Thunderbird 68.* and not a beta version on your daily mail profile as there will be many breaking changes in the next months.

If you want to use betas, make sure to use a test profile and regularly back up your mail to avoid data loss.

The filter template dialog isn't shown properly in Thunderbird 68 - generally I would recommend to install the quickFilters Add-on instead, as it has more advanced functions for managing and creating mail filters.

[Bug 26692] Advanced tab property - Option to omit specific folders from quickMove / quickJump results.
Improved look of search box especially in dark themes.
Improved look of current folder bar background by better matching standard theme background colors.

Thunderbird 68 Fixes

[Issue 4] Entering text in quickMove / quickJump field doesn't show suggestions while typing.
As Mozilla removed xbl bindings for most xul elements, the quickMove / quickJump box had stopped working. This version fixes it and brings back the automatic suggestions that are shown during typing a folder name.
[Bug 26694] Subfolder menus do not expand - A regression has caused subfolders (2nd and higher level) not to be expanded on the drag / click context menus of the folder tabs.

Fixed: creating new subfolders from QF menus fails because XPCOMUtils.generateQI was removed.

[Bug 26681] On Current Folder Tab, "Mark Folder Read" is not displayed.
Domain license renewal gave the wrong link when the green button (renew license) was clicked. Now fixed to redirect to https://sites.fastspring.com/quickfolders/instant/quickfoldersrenew.
Fixed some problems with deleting categories - deleting the last one can make the folder tabs invisible if it is currently selected. Also now show Tabs for every category, if an invalid category is selected based.

Thunderbird 68 Fixes

Fixed: The categories dialog did not show any categories.
In Thunderbird 68 there was a bottom 1px gap between the QuickFolder Tabs and the colored bar, which is now fixed.
Fixed: Tab-specific properties did not retain changed settings.
Use new required Syntax for importing the code of JavaScript modules such as MailUtils.jsm.

Fixed [Bug 26680] quickMove / quickJump: Create subfolder command with "/" stopped working.

When entering a folder name followed by a forward slash [/] the expected behavior is to not only show suggestions for matching subfolders but also a suggestion to create a new subfolder based on the characters entered after the slash:

Thunderbird 68 Fixes

Fixed broken functionality of dialog buttons (Cancel, Ok didn't close dialog).
Remember last opened panel in options dialog.
Fixed syntax for module import (Services.jsm, PluralForm).
Fixed broken notification panels.

[Bug 26671] Only one row of tabs after update to QuickFolders 4.15.1 - this can also lead to trailing tabs missing on screen. Note: the official release 4.15.2 did not fix the issue, therefore I removed it from the Thunderbird addons store.

I had previously uploaded a fix in 4.15.2 but through an error rolled back the code, so it is now officially fixed with version 4.15.3.

The new backup / restore tool will also display tabs which have no valid folders. If you have problems with outdated tabs being shown, you may additionally want to execute the find orphaned tabs command:

Rounded out pt-br (Portuguese Brazilian) locale - thanks to Marcelo Ghelman
[Bug 26670] Improved keyboard navigation: use Alt+[Down] for opening the QuickFolder Tab dropdown menu. This completes the shortcuts Alt+[Left] and Alt+[Right] for navigating to neighboring tabs.

4.15.1 - Premium Function: [Bug 24468] Added backup and restore functions on the QuickFolders Pro Tab. Save Configuration will store everything including all QuickFolders Tabs, general settings, layout and advanced settings. The later includes advanced settings except for the license key. Load Configuration will only load whatever option you select.

Added lightweight theme support for current folder bar


For best result, select the "lighweight" option on the background dropdown on the Advanced tab. I also slimmed down the layout for retrieving some added vertical space.

You can further tweak ergonomics of the central navigation panel by decreasing the "Left Spacer" value.

[Bug 26659] Advanced Tab Props - falsely always applies to subfolders

Setting From Identity or To To Address was always applied to all subfolders even if the option "[x] Also apply to subfolders" was not selected. From now on, this option will work correctly.

[Bug 26665] Cancel quickmove and erase list of messages with SHIFT+Escape.
[Bug 26660] quickMove: support pressing [Enter] to always select the top item, not just when there is only one item in the dropdown menu.
Support 'Cursor Up' key to jump to bottom of search results in quickJump / quickMove function.
[Bug 26658] ESR 2019 Readiness - compatibility with Thunderbird 68

Made QuickFolders compatible with Thunderbird 68 - part of the ongoing effort to future proof QuickFolders for 2020. For now, this also means making the minimum requirement using Thunderbird version 60.

I may back-port new features to older versions on demand - these will be handled on a separate Github branch.

Replaced prefwindows with dialogs.
Use newer preferences script.
Replace groupbox elements with html fieldsets.
Use new promise-based AddonManager object.

[Bug 26654] quickMove shortcuts triggered during in-mail search
quickMove: Improved remembering of all entered parent folders when only a singular match is found.
Replaced className logic with classList, where possible.
Removed deprecated getCharPref function: make remembering folder tabs preferences backwards compatible for older clients (Interlink) by using getComplexValue / getStringPref instead. (getCharPref could lead to faulty characters when using extended character sets)
Japanese locale completed - thanks to Masahiko Imanaka.
Fixed: Message Navigation Buttons in Current Folder bar could not be hidden via options.
Prepared code base for compatibility with Thunderbird 66 - this will be released as a separate version because it is currently impossible to release a version that is compatible with Thunderbird 60.
Replaced color pickers with HTML elements - these call the System Specific color pickers of your operating system instead.

Improved quickMove / quickJump actions: you can now enter multiple forward slashes to determine a chain of parent folders. The entered parent folder names will be displayed in full even when only entered partially:

Also moved create new subfolder entry to bottom.
[Bug 26645] Move IMAP folders within the tree cuts off QF tabs.


When a folder is moved from one tree location to another in a synchronised IMAP account, the folder location (URL) is not updated in the QuickFolders Tab pointing to the moved folder.

Expected behavior (which works in POP mail) is that QuickFolders automatically updates the Tab to point to the new location.

Workaround: move the folder from the tree to a QuickFolders Tab (or folder submenu thereof) while holding down the SHIFT key.

Fixed: No context menu was shown When right-clicking the current folder tab in Thunderbird 52 unless user executed double click .
Show the "already have a license" button on the registration screen when the license key is expired.

Tab Categories

When selecting Folder Aliases (Never Show) from the Categories box, items that are categorized "Always show" are also displayed. From now on QuickFolders will not show the "Always" Item when "Folder Aliases" Category is selected.
Support deleting multiple Categories from Category box. please only select Categories you have defined yourself - you cannot select the built in categoires (Always / Never / Uncategorized) in a multiple selection.
When deleting *all* user defined categories, the categories box was not hidden. I wrote a tidy up routine that resets any tab that may lead to this problem (remove Show Always category from all tabs)

Specific Release for Interlink - 4.13.3

Fixed issue with legacy Iterator which is called for Application with Platform Version < 13 which caused the quickMove / quickJump search function to malfunction - Interlink Only.
Fixed issue with bottom line of QuickFolders tooblar not displaying - Interlink Only.
When creating a new subfolder (from mail commands) - the application threw an error "getOrCreateFOlder .. not supported"

Emergency Fix - 4.13.4

4.13.4: [Bug 26646] Under certain circumstances, while loading platform specific syle sheets for Windows / Linux / Mac on startup Thunderbird shows an error on starting up Thunderbird "ensureStyleSheetLoaded failed." This version removes the alert but logs detail of the error in error console.

[Bug 26616] Folder tree icons of folders without tab did not persist after restart of Thunderbird. This is fixed as of version 4.13.2 - hold down CONTROL and right-click any tab, select Customize Icons…

The icon will be visible on the QuickFolders Tab and also in the folder tree for easy reference (Thunderbird only).

You can download a compatible set of 16px² icons here. You may have to enable the icons menu in QuickFolders Options / Advanced:

Removed code that opened donation tab on update. From now on, only the change log will be displayed whenever QuickFolders is updated. This may include promotions for QuickFolders licenses and videos related to my Thunderbird Add-ons. Also repurposed the "donate" buttons for selling licenses.
[Bug 26644] High CPU usage caused by "Renew License" button.
In some Linux systems the animated License Renewal buttons can lead to performance issues. This is connected to missing graphics acceleration for certain CSS animations.
Thunderbird 60: (4.13.2) fixed platform specific style rules for Linux / Mac systems which weren't loaded anymore due to recent deprecation of the "platform" switch in install manifests.
Interlink only: fixed the position of the QuickFolders toolbar (it is now shown underneath the mail tabs above the list of emails where is belongs).
Added logic for extending license before expiry. Now you can extend your QuickFolders license up to 30 days before it expires. Just click the "Extend License" button on the QuickFolders Pro tab in the options dialog.
The minimum version of Postbox was raised to 5.0 - note that after 5.5beta6 Postbox sadly does not support Add-ons anymore.

[Bug 26612] Only 1 row of tabs visible after updating Thunderbird to 60.3.2. When more tabs are present they appear cut off at the bottom. This is caused by changes in Firefox code base "mozilla-central" which flows down into the Thunderbird code base.

Russian Translation complete - thanks to Anton Pinsky and Solokot at Babelzilla.org




[Bug 26602] Premium Function: Insert last folder name executed by quickJump / quickMove.

The name of last folder successfully navigated by quickMove / quickJump will be inserted in the quickMove search field automatically. Hit Enter to use it, or simply type over it to go to a different destination.

FolderTree Icons not shown in Thunderbird 52.9.1
[Bug 26600] Newly created folders should show up in Recent folders.
SeaMonkey: Added Repair Tree icons command to tools menu, changeed position of Current Folder Bar

Fixed in 4.11.1

Note: Version 4.11 was released on 16/10/2018

[Bug 26592] Recent Folder items not working in Thunderbird 52
The recent folder popup menus do show items but clicking on a recent folder does not jump to it.
[Bug 26593] Broken context menu commands: "Empty Junk..." menu item stopped working.
[Bug 26590] No subfolder items in QuickFolders 4.11 popups in SeaMonkey

New Features (4.11)



(Premium Feature) Added an optional keyboard shortcut for the new "skip unread folder" command:


[Bug 26565] Execute quickJump / quickMove with [Enter] if unique match

This means if you can now jump to or move mail to any folder using keys only even more conveniently. After the keyboard shortcuts (SHIFT-J and SHIFT-M) and typing a few letters, you can now simply use the [Enter] key to jump / move mail if there is only one folder result in the list.
To select from multiple matches, use the [Down] key or mouse as before.

Redesigned (mostly monochrome) toolbar icons for Photon look; includes improved brighttext support.

"Classic" design: Shown on Thundebird 59 and before + all other Mail Apps.
Toolbar toggle, New Folder, Skip unread folder.

---

New design: displayed from Thunderbird 60 forward
New design: with brighttext support (dark themes)

[Bug 26570] Remove "Mark Folder Read" command if a folder contains no unread mails.
Improved "unread email count" display by using Triangle [▾] instead of Plus sign [+] to delimit unread mail stored in subfolders.
[Bug 26571] Add Option to hide QF command submenu. With this new option, QuickFolders commands are only shown when the CTRL key is pressed while clicking the QuickFolders Tab.
Added an option to disable the "Open in New Tab" function. You can still quickly open a Folder in a new tab by left-clicking it while holding down CTRL.

Bug Fixes



[Bug 26575] Thunderbird 60: QuickFolders context menus broken. This is due to bugs in the new rendering engine "Servo" which replaces "Gecko" which apparently are triggered by using em (a unit based on font size) for spacings in / around the toolbarbuttons. Visit the related bug on Mozilla
[Bug 26566] Thunderbird 60 doesn't show custom icons in folder tree. To fix this QuickFolders will now start a timer that repairs the icons after initialisation. The waiting time can be adjusted through the configuration setting extensions.quickfolders.treeIconsDelay
Fixed: Some full themes (e.g. Nuvola) do not display the check mark for advanced tab properties
Fixed getOrCreateFolder (creating folders asynchronously) for Thunderbird 60
Removed palette color names for stability.

[Bug 26514] Remove the QuickFolders Tab when deleting folder from its menu: The QuickFolders tab of a deleted folder used to be re-pointed to the folder that was moved to Trash, which could create the impression of the folder still being in place. With this fix, Thunderbird will move to the parent of the deleted folder after the folder deletion and delete the QuickFolder Tab as well.
Improved "Skip Folder" function to wrap around and go to the first unread email in every folder skipped to.
[Bug 26507] Colors menu should only be available on themes supporting it (e.g. Native Tabs / Pushbuttons)
[Bug 26517] Support moving multiple folders using Drag + Drop.
Hold down SHIFT while dropping folders from the tree onto a QuickFolders Tab or it's subfolders menu.
Fixed version links from Options dialog to support site to show more relevant information to Premium Users. Also improved validation warning in case a license key for a different Add-on has been inserted.
[Bug 26489] ESR 2018 readiness - Make QuickFolders compatible with Thunderbird 60

Various Styling Improvements



Improved brighttext support in "Flat Tabs" and coloring behavior for "Apple Pills" Theme.
The "Bling my Tabs" page will now show a preview using the current Theme colors for easier tab color styling. (From Thunderbird 60 onwards)
Added minimum height and top padding settings for better styling flat style buttons in new Thunderbird photon look.

Redesigned toolbar icons for Thunderbird 60's Photon compatibility, which also better supports dark backgrounds.

New Buttons: [QuickFolders Toolbar toggle], [New Subfolder], [Skip to Next Unread Folder].
Fixed font color on colored Current Folder tab when Striped Style is used.
Added a preview panel to advanced folder properties - this will be visible if the custom css option is activated. Note that any colorings can be different on the QuickFolder tab if the folder is currently selected. (Current folder coloring overrides everything else for consistency)


Postbox: fixed displaying advanced / debug settings when right-clicking some options / debug checkbox
[Bug 26473] Added toolbar button to create subfolder (within the current folder). Added option for simultaneously creating a QuickFolders Tab.
New Premium Feature: [Bug 26474] "Tab-Specific Properties ..." Add Option to apply mail settings to subfolders. With this the identity and To address header of new / replied emails created from a folder (and it's subfolders) can be modified.

New Premium Feature: [Bug 26475] Added Navigation Button to skip unread folder into Current Folder Toolbar.

Tidy up (don't show) own filter notification when quickFilters is installed.
Added Spanish locale {thanks to strel - Babelzilla.org}
[Bug 26489] ESR 2018 readiness - Make QuickFolders compatible with Thunderbird 60
Filter Assistant: remove unnecessary notification box if quickFilters is installed
[Bug 26481] Reading List: click on bookmarked mail should switch to already open mail Tab
[Bug 26470] Make QuickFolders compatible with the next Postbox build - 5.52 beta 6 (modern Gecko build) - as of beta 7, Postbox is following Mozilla Quantum in dropping 3rd party Addons support altogether:

Postbox is based on Mozilla code, and as of Firefox Quantum, Mozilla has discontinued support for add-ons. As such, a decision has been made to remove add-ons functionality from Postbox at this time.

Postbox's Signatures and Responses add-ons have been rolled into the core product. Cloud File Sharing and installable Dictionaries will be supported in future BETA releases.

Add-ons from 3rd parties will no longer operate in Postbox, but we may opt to roll certain 3rd party add-on functionality into Postbox in the future.

Allow asynchronous creation of subfolders during quickMove / quickJump in newer Postbox builds (5.52 and later, supporting Task)
4.9.1 Skip Unread Folder buttons: Updated Icons, made Current Folder Toolbar button visible for users of all versions, and added premium feature notification.

---

(4.8.1) Fixed [Bug 26454] Pro License screen - account dropdown not populated
(4.8.1) Fixed [Bug 26455] Cannot paste folder tabs in Postbox. Is is also not possible to use the [Paste] button in Postbox when attempting to insert the QuickFolders Pro license.
(Thunderbird & Postbox only) Improved Premium Feature Notifications to always show in a sliding notification bar on main window and not as Messagebox. In SeaMonkey, these are be displayed as an OS notification (display is depending on which operating system you are using - usually a sliding window in the bottom right of the screen)
Fixed [Bug 26439] "Thunderbird 57.0 beta 1 hangs on start with QuickFolders enabled"


Thunderbird 57 did not show its main window if any of my XUL based addons are loaded. A number of changes to the JavaScript engine necessitate various changes to code.
See also the Related Thunderbird bug

Fixed [Bug 26452] Moving Mail to new folder fails when the (quickFilters) Filter Assistant is enabled.
Fixed [Bug 26372] After entering License Key Tabs are not displayed anymore.
Fixed [Bug 26389] Single Mail Tab: clicking the current folder on Toolbar should open it.
Fixed [Bug 26387] 'Color is null' error in Linux when options window is opened.
Fixed [Bug 26409] quickMove - create new subfolder not working in empty parent. make it possible to create new subfolders using quickMove by entering parentFolder/New Folder even if the parent Folder has no children.
[Bug 26425] Add setting to move "drag to new subfolder" to top of subfolders menu. This can be configured by right-clicking QuickFolders Advanced Options | Menu Configuration | "Drag to New Subfolder" and then setting extensions.quickfolders.dragToCreateFolder.menutop = true
WIP: Removing / Forking Deprecated code in preparation for the next big Thunderbird release (57+). Tested current version with Thunderbird 57.0 beta2.
Fixed [Bug 26453] Seamonkey: The last selected QuickFolders Category is not Remembered.

PSA FOR FIREFOX USERS


From Firefox version 57.0 on, Mozilla has terminated legacy based addons. Here is a Mozilla blog post explaining their plans. Although from Firefox version 57 no new XUL addons will be accepted, but I will still be able to maintain / update my existing Firefox addons, until Mozilla decides that they will not be supported by Firefox anymore.
Some more information what changed in Firefox Quantum and how to get your Addons back


4.7.1 (Released 01/03/2017)



Fixed [Bug 26346] On drag & drop, mouserollovered tabs' submenus do not close anymore. This was caused by falsely renaming a function to onDragEnd because of impending changes in the Mozilla main code base; unfortunately the convenience wrapper nsDragAndDrop in Thunderbird's comm-central database does not yet follow the new naming conventions and checks for the existence of a function onDragExit in the drag observer.
Fixed [Bug 26348] Striped Style was permanently disabled. In the bugfix: if you choose Night Vision for either Uncolored or Colored Tabs then striped style will automatically disabled and switched off. (Because the Night Vision palette does not support it). It is also disabled if the theme doesn't support it or neither Uncolored not Colored tab have supported palettes (standard palette or pastel colors)

4.7 (Released 20/02/2017)



New [Bug 25764] Configurable Button to Repair the Current Folder

Make this new button visible in QuickFolders Settings > Advanced in the section Current Folder Toolbar. Making the Current Folder Toolbar always visible is highly recommended as it has some very useful commands right into center screen, such as:

Dragable current Mail(s) Icon
Recent Folder Button
Message Navigation (next unread, mark thread as read and jump)
Folder Siblings
Customize Icon
Filter Assistant
Mail Folder Commands Submenu
Repair Folder

I might add a Search Messages Button for QuickFolders Pro Users at some stage as well.
Optimised screen space by adding an autocollapse function for the Categories dropdown. This makes sure that the categories menu does not take up an unnecessary amount of horizontal space by collapsing to a button [] and can be configured in QuickFolders Settings > Advanced, under Miscellaneus:

[Bug 26268] Increased maximum width of popup menus for reading long folder pathes.
Fixed [Bug 26313] Dragging quickfolder tabs (to re-order) was broken in Thunderbird 50.0b3
Completed Simplified Chinese Locale - thanks to YFdyh000 and Loviny at Babelzilla.org
Fixed [Bug 26321] Fixed unnecessary log warning 'Unreachable code after return statement'
Fixed [Bug 26336] Confirmation to "Switch to Domain license?" is hidden behind options dialog.
Fixed [Bug 26323] Removed unnecessary space on the left of QuickFolders tabs labels
Added Version number to subject line in Options / Support Tab / Contact Me

Support for Postbox 5
Moved support site to quickfolders.org. The bug database will remain at bugzilla.mozdev.org
[Bug 26224] Thunderbird 50: replaced old dragdrop events with drop events, which broke dragging mail and folders.
New internal function for opening the folder of current mail
Premium function for copying and pasting the folder tabs definitions. Copy your tabs to the clipboard and edit the list in an external editor. Great for account migrations.
Made coloring + styling (flat style) more reliable in SeaMonkey.
Platform modernization: replaced old dragdrop events with drop events.
Ensured Compatibility with Fossamail (25.0 and higher)

QuickFolder Pro users: If your license is expired there will be renewal links and buttons in the application. Using them you can buy a new license at a reduced price.

QuickFolder Pro users: If your license is expired there will be renewal links and buttons in the application. Using them you can buy a new license at a reduced price.

I have created a new YouTube Channel Thunderbird Daily with tips and tricks such has how to get started with Addons. Please subscribe to it and watch the release history video below:

[Bug 25941] Implemented "Drag to New Folder..." on Tabs for IMAP accounts (Thunderbird / SeaMonkey only; Postbox doesn't support asynchronous tasks).
As workaround I wrote some timer-based fix for Postbox which can be activated by going to Advanced, Mail Commands, Drag to new Subfolder and then via right-click activating the setting extensions.quickfolders.dragToCreateFolder.imap
[Bug 26150] quickJump / quickMove - create child folder command [Thunderbird / SeaMonkey only]. Enter parent folder name (or partial) then press slash [/] to type child folder. See video above for a detailed demonstration.

[Bug 26149] New Folder should be shown in Recent Folders history
Added selection box for not asking to go to next unread folder. This can remove the annoying extra click when using the go-to next unread mail buttons so definitely a time saver.

Stop showing donation screen on upgrade for Pro Users - the logic was reversed in previous version
SeaMonkey: Fixed Error "Main is Null" when options is opened without visible mail window
[Bug 26156] When creating a new subfolder it doesn't always show in Recent folder list
[Bug 26157] Add special icon for Deleted folders in recent folders list
Compatibility fixes for Thunderbird 44.0 - 46.0
Increased minimum version to 34.0

Premium Features




Set default To Email address and From Identity for creating new mails when in a folder. For every QuickFolder Tab, add a default email address for sending emails To and a default identity. This makes it easier when we store email from different identities in the same mailbox (e.g. Local Folders).

For example: You can now configure your desired sender identity for each of your mailing lists. Or select a default recipient for when you write a new email from a folder.
For every QuickFolder, this can be enabled via the advanced Tab properties dialog. Right-click the tab, select QuickFolders Commands > Tab-Specific Properties...


[Bug 25682] Allow displaying multiple categories at once. Once this feature is enabled, multiple tab categories can be selected using the SHIFT key.


| | |
| --- | --- |
| | To activate multiple categories, check the box on the QuickFolders Pro Tab: |

Version History doesn't show Donate reminders for Pro Users anymore (JavaScript in browser / browser tabs must be enabled)
[Bug 26116] Fixed: Tab Specific properties panel always jumps to primary screen.

Free Improvements



Settings Dialog: now remembers the last tab even if closed with Cancel button.
Hidden Tabs / Folder Aliases: You can now hide a QuickFolder Tab by selecting the Category "Never Show (Folder Aliases)". This means you can use the name of the Tab in the quickMove / quickJump functions for quickly navigating without using the original Folder name.

QuickFolders Pro Domain Licenses - get QuickFolders Pro at a reduced rate if you buy more than 5 for a specific domain. Just click the new button on the Licensing window.
[Bug 26070] quickCopy feature - use the quickMove button for copying mails to any folder, by holding down CTRL when dropping mails.
[Bug 26088] Expand quickJump (Move/Copy) results to child folders. Enter start of the parent folder name, then forward slash '/' to search all child folders.

[Bug 26071] Folder Tree hotkey - hit F9 to show/hide the folder tree (Premium Feature)
[Bug 26065] Fixed: context menu disappears; in some rare cases the popup menus which are displayed on the first drag of a message to a QF tab will not be shown again until Thunderbird is restarted.
Added support for brighttext themes - some themes with dark backgrounds caused broken icons in the toolbar.
4.2.1 - fixed registration buttons for non-English locales; disabled donation screen for Pro users.
4.2.2 - [Bug 26095] Renaming or Moving Folder causes orphaned Tabs on Subfolders

Premium Features



[Bug 26019] Premium feature - Added "Reading List" for creating a bookmark list of important mails. Just drag your important mails on this button: , and read them later. Use shortcuts SHIFT or CTRL to open in new window or tab. Right-click to remove bookmarks.

The list is stored and will likely support additional items other than emails in the future; your suggestions are always welcome!
Improved quickMove / quickJump - made shortcut less "greedy" so that CTRL+SHIFT or ALT+SHIFT do not trigger it. But also allow more screen areas to use the shortcut from (folder tree, accounts tree [Postbox], conversation view) Improved the quickJump by accepting start text for ALL words in string (So if you type "mil" you can jump into the folder "Steve Miller" by hitting Enter instantly, provided there is only 1 find result)
Fixed: when mails are "queued" for a quickMove operation, using the keyboard shortcut "quickJump" temporarily should not move the mails but navigate to the folder instead
[Bug 26046] (Fixed) Thunderbird 38 stopped showing customized Icons in folder tree
[Bug 25991] Disambiguate folders shown in quickMove Name Box

added configuration options for the quickJump / quickMove results
increased default depth to 3 and include Account by default

[Bug 26051] Premium Version only: replaced rotating icons.

Free Improvements



[Bug 26021] Added Postbox 4.0 Support
Postbox / SeaMonkey - display the Icons command on the QuickFolders Commands menu (this doesn't support icons in the folder tree, but on the tabs themselves)
Added Slovenian locale {thanks to Peter Klofutar - Babelzilla.org}
Changed default of extensions.quickfolders.recentfolders.folderPathDetail to 2

This can be configured via right-clicking the recent folders checkbox on the General Options page:

Folder Name
Folder Name - Mail Account
Account - Folder Path (*)
Folder Path
Folder URI (for debugging)

The folder path depth (how many folders are displayed maximally) can be configured using

extensions.quickfolders.recentfolders.maxPathItems
[Bug 25864] By default, unread subfolders aren't highlighted. changing the defaults to make this simpler:

Also display totals of subfolders - true
Highlight Folders with new mail - true
Display Tabs with newly arrived mail italic

Made highlighted new mail better readable.
Added colored bottom line in Postbox in flat theme and interface to change its height.
Additional Bling Fixes:

fixed gradient colors for uncolored inactive tabs in striped mode
made text colors more consistent for striped tabs
disable transparent / striped options when appropriate
in striped mode, do not change color+background color when selecting a new color for inactive tab.

Bug Fixes



"Remove from current category" had a bug that showed all categories if the FIRST category was removed from a Tab
Bugfix: Removed side effect that overwrites naming conventions of new filters created with quickFilters.
Fixed background color selection in Postbox when palette menu is used in options screen

Premium Features



Interface for adding custom Icons (16px²) to Tabs: Right-click the tab, select QuickFolders Commands > Customize Icon...

To get started, you can download a selection of icons here: http://downloads.mozdev.org/quickfolders/4.9/
Note: I do not own any rights to these, I am utilizing them under "fair use", they were mostly scraped from web sites, which is something you can also do yourself. If you want me to remove any of the ones in this archive, please contact me an I will do so.
[FR 25708] Allow customizing icons in Folder tree (Thunderbird)

[FR 25825] Added quickMove feature: a button for moving mails to any folder by entering the folder name. Drag the mails on the button, and start typing the destination name.
1. Drag...

2. Type... as you type more letters, the suggested list will get shorter.


Also use the same button by simple clicking to jump to any folder quickly.
[FR 23039] - Support Line breaks to force Multiple Rows of Tabs
[FR 24431] - Optional Separators between tabs

Free Improvements



Added "Download Now" Command for unsynchronized IMAP / Exchange folders.
You can now drag multiple folders to the QuickFolders toolbar (Thunderbird / SeaMonkey)
Added prompt for subject line when sending support email
Rainbow Paint mode: holding CTRL while painting will advance to the next color, CTRL+SHIFT goes back to previous color (Rainbow Switch)
Improved Current Folder bar in Single Message window. (Styling + moving through messages / folders using Next/Previous buttons)

Visual Improvements



Improved and revised Palettes:



New Night Vision Palette for supporting dark themes.


Bug Fixes



Fixed [Bug 25697] - When clicked, tab is incorrectly flagged for invalid folder: this seemed to mainly affect Linux users on IMAP
Fixed: Recent folder menu shows encoded path decreasing readability

Fixed: Active Tab font color wasn't set reliably if active tab palette differs from uncolored / standard tabs.
Fixed [Bug 25722] Hover Tab color is overwritten when right-clicking a Tab
Fixed [Bug 25721] Drag Over Color not working in 2 Color mode
Fixed [Bug 25824] In Ubuntu, QuickFolders Toolbar color cannot be set
Fixed: QuickFolders.Worker is undefined (quickfolders-filterWorker.js Line: 157)
Fixed: Sometimes tabContainer.selectedIndex can be uninitialized leading to the set current folder failing (when clicking a QF tab)
Made the option "Striped Style" more consistent depending on selected Palette (not all palettes support striped mode)
Fixed squashed icons on toolbar buttons in Ubuntu

note: 3.15 beta 1 is equivalent to 3.15 prerelease 300 (higher prerelease numbers are newer versions).

Added "Download Now" Command for unsynchronized IMAP / Exchange folders.
Interface for adding custom Icons (16px²) to Tabs: Right-click the tab, select QuickFolders Commands > Customize Icon...
[FR 25708] Allow customizing icons in Folder tree (Thunderbird)
[FR 25825] Added quickMove feature: a button for moving mails to any folder by entering the folder name. Drag the mails on the button, and start typing the destination name.
You can now drag multiple folders to the QuickFolders toolbar (Thunderbird / SeaMonkey)
Added prompt for subject line when sending support email
Paint mode: holding CTRL while painting will advance to the next color, CTRL+SHIFT goes back to previous color (Rainbow Switch)



Visual Improvements



New Night Vision Palette for supporting dark themes.
Improved and revised Pastel colors.

Bug Fixes



Fixed [Bug 25697] - When clicked, tab is incorrectly flagged for invalid folder: this seemed to mainly affect Linux users on IMAP
Fixed: Recent folder menu shows encoded path decreasing readability

Fixed: Active Tab font color wasn't set reliably if active tab palette differs from uncolored / standard tabs.
Fixed [Bug 25722] Hover Tab color is overwritten when right-clicking a Tab
Fixed [Bug 25721] Drag Over Color not working in 2 Color mode
Fixed [Bug 25824] In Ubuntu, QuickFolders Toolbar color cannot be set
Fixed: QuickFolders.Worker is undefined (quickfolders-filterWorker.js Line: 157)
Fixed: Sometimes tabContainer.selectedIndex can be uninitialized leading to the set current folder failing (when clicking a QF tab)
Made the option "Striped Style" more consistent depending on selected Palette (not all palettes support striped mode)
Fixed squashed icons on toolbar buttons in Ubuntu

Fixed [Bug 25697] - When clicked, tab is incorrectly flagged for invalid folder: this seemed to mainly affect Linux users on IMAP
Added new mail folder command: "Explore Folder Location..."

Fixed: The message QuickFolders.Worker is undefined (quickfolders-filterWorker.js Line: 157) causing the filter assistant notification of QuickFolders' Filter Assistant mode to malfunction (notification couldn't be closed)

Features



Fixed [Bug 25608] (and [Bug 25610]) In single message view, QF tabs should do something useful. You can now open a new folder tab from a single message window by clicking on a QuickFolders tab, without loosing your msingle message view tab. If the folder is already open in a Thunderbird Tab, QuickFolders will switch to it.
Use the config setting extensions.quickfolders.behavior.nonFolderView.openNewTab to suppress opening new tabs and always open folder in the first tab instead.
Improved tab handling code in Postbox (reuse existing tabs) / SeaMonkey (new virtual tab mode for single messages view)
Experimental (Premium Feature): [FR 25645] Adding Icons via context menu - to display the new menu, switch on Configuration setting extensions.quickfolders.commandMenu.icon

QuickFolders now detects (and offers to delete) tabs for non-existent folders when you open them using the Find Folder feature or clicking their tab: When jumping to an invalid QuickFolder (the folder that it points to doesn't exist) give the option of deleting it immediately. (Behavior can be disabled by setting extensions.quickfolders.autoValidateFolders>)
Added a button for configuring tooltips: [FR 25636]
Changed default setting "Display Shortcut Number" to false as default to remove clutter when installing QuickFolders.

Bug Fixes



Fixed [Bug 25634] - Long menus obscure tabs. The fix offsets the menu to the right when a configurable certain number subfolders is reached: This number is stored in Thunderbird's config setting extensions.quickfolders.folderMenu.realignMinTabs
Fixed - when searching for folders (CTRL+ALT+J) the list is not reset when no matches are found.
Fix [Bug 25683] - Supress Line Break if Tab is first.

Code Base Improvements

Used fixIterator for cross-application compatible accounts code
Refactored code around bool preferences

This is a maintenance release with important bug fixes; if you upgraded from 3.11 or an earlier version, please skip down to the next section. If you are trying to customize your colors with the options in "Bling my tabs", this version behaves much more predictably than 3.12.
Fixed [Bug 25598] Active folder not marked at startup / category selection
Fixed [Bug 25606] QuickFolders doesn't always highlight active folder
Fixed [Bug 25608] - Unexpected behavior when changing folders while reading a message
Improved Search Folder algorithm and User Interface. Use the new shortcut CTRL+ALT+J to display the search box:

Simply start typing the folder / tab name. The menu will fill with matches accordingly. Once you see something you like, press down to select the folder to jump to. Press Enter to go to the folder. Press Escape to close the search box.
SeaMonkey - Improved height of current folder tab.
Fixed: when in paint mode instant coloring showed wrong color while pastel palette was selected.
Paint Mode: Fixed storing the correct color for recent folder tab.

Known Issues

Currently you can only drag single emails to a file using the envelope icon in Current Folder Toolbar.
When using the DOWN key to go to the search results of find folder, DOWN has to be pressed twice. (Tb+Pb only)
Search in SeaMonkey delays highlighting the current tab when switching to the folder.

This is a maintenance release with important bug fixes; if you upgraded from 3.11 or an earlier version, please skip down to the next section. If you are trying to customize your colors with the options in "Bling my tabs", this version behaves much more predictably than 3.12.
Fixed [Bug 25585] - "Hide when not needed option" ALWAYS hides toolbar
Fixed [Bug 25589] When Pastel was selected the preview tabs (on layout "bling" screen) where painted with standard palette when a new color was chosen
Switch on "transparent" and select white background on selecting "no color" from the menu for Uncolored Tabs. Transparent here actually really means translucent and makes the selected background color shine through with 25%.
Disabled color drop down on the preview tabs if "2 Colors" is selected.
Update button shadows in mail window immediately when Shadows option is changed.
Fixed warning "Expected number or percentage in rgb() but found 'NaN'".

New Features



Added independent palette type selections for the tab states selected / hover / dragover / uncolored:

Added new top level menu: open new tab

Option Tab: Added options for QuickFolders commands in context menu

Redesigned tab bar to align tabs to bottom regardless of theme used
[FR 25364] - Hide QF toolbar and current folder bar in single message tab (should behave same as single message window)
Made compatible with redefinition of Thunderbird's nsIMsgAccountManager interface
Removed call from options load that caused redraw of folders; made remove orphans more resilient against Tb bugs
Improved "dark" style of current folder toolbar to harmonize better with TT deepdark

Premium Features



This is a subscription model for advanced features, which is funding future enhancements of QuickFolders. Some of these features can be tried out in the free version and may be slightly restricted - they are also used to promote the Pro version with a notification box.
For more information contact me via the email link at the bottom of the page.
[FR 23039] - Support Line breaks to force Multiple Rows of Tabs
[FR 24431] - Optional Separators between tabs
[FR 25200] - quickJump function:
Watch the video explaining quickJump and quickMove.
Click on quickJump button

A Search box opens where you can type a folder name and hit [Enter].

If exactly one matching folder is found Thunderbird will jump to it immediately. If multiple folders match a dropdown will show. Selecting the folder (or tab) name will jump to the folder.
You can also type "/" if you know only the parent name and want to list subfolders. Here I am listing all children of family.


Bug Fixes and Code Changes



[Bug 25536] Compatibility Fixes for Thunderbird 26 (removed widgetglue.js)
[Bug 25533] - SeaMonkey 2.23a1 - throws "ReferenceError: EventListener is not defined"
Fixed truncated filter notification in Postbox
Fixed broken paint mode.
Some interface refactoring
[Bug 25585] - "Hide when not needed" option ALWAYS hides toolbar. (Will be Fixed in 3.12.1 - please follow link to the bug for a patched version.)

Fixed [Bug 25204] - filter mode: dragging from a fresh search, creates error "QuickFolders.Util.moveMessages:TypeError: sourceFolder is null"
Fixed dropping of current folder tab to QuickFolders bar
Enhancement: Do not switch to current folder's category, if current tab has an tab from a different Category selected! This way mail tabs "remembering" their QF Category will work better and faster
Some minor color enhancements, improved contrast of filter activation icon (small and big sizes)
Added setting for displaying folders with new mails in italics
[Bug 25021] - Added setting for minimum height for fixing display issues in the messages pane for Mac users

Fixed [Bug 25277] - Error at startup: "Quickfolders.updateUserStyles - error TypeError: ss is null"
Made background color of current folder toolbar configurable. Possible flavors are: default, dark, translucent, custom

Examples:

Fixed status bar messages in SeaMonkey
fixed duplicate donation tabs in SeaMonkey and Postbox
Added Polish locale (this is still work in progress) - thanks to hipogrys (Babelzilla)
Various style fixes

Fixed a styling problem with checkbox icons in options dialog
Fixed colorings in legacy Gecko systems (Postbox)
Added override for active / hovered / dragged tab palette color - to make these stand out, it is now possible to have a customized font color even when using palette:

improved tabs preview on "bling my tabs" page:

optimized order of style sheets for better performance
improved 'use palette' auto-hide

Fixed: getFolderTooltip throws an error if no root folder is present leading to missing or incomplete tabs.
Fixed [Bug 25220] - No more background gradient colors on tabs with Thunderbird 3.x
[CR 24613] - added a hidden option for showing complete path in recent folders menus
Bugfix: A missing rootFolder can create a NS_ERROR_FAILURE leading to no visible tabs.
Fixed: logging can lead to errors if there are no categories defined.
Bumped up SeaMonkey compatibility to 2.14.*
Fixed styling glitches in SeaMonkey and Postbox (invisible Filter buttons)
[Bug 25204] Added Enhancement: "Allow location-aware dragging from within virtual folder" - it is now possible to create a new filter when dragging an email from a saved search folder or from the unified Inbox / unified Sent folders to a QuickFolders tab.

Removed obsolete "Recent" button from empty QuickFolders toolbar shown at startup
improved per-mailTab category selection.
This adds a lot of productivity when you work with multiple Thunderbird tabs open - during a session, each will now remember the selected QuickFolders category. This makes it possible to work with and even move mail between QuickFolders in different categories at the same time. Also, remember that you can use CTRL+click to open a new Thunderbird tab from a QuickFolder.
use quickFilters filtering engine instead of the QuickFolders one if qF is installed.
improved horizontal padding in Noia & other themes
Removed obsolete "Recent" placeholder on empty QF toolbar
Fixed [Bug 25203] - Error when adding a filter if Message Filters window is already open
Removed deprecated -moz-linear-gradient & -moz-transition rules into legacy style sheets
Added Donation button to bottom of options dialog

updated CA locale
synchronized background color picker and background color of non-palette preview tabs (when choosing a palette item, the background color will correspond)
improved faulty font coloring in tab on current folder bar
improved padding of (flat-style) toolbarbuttons
improved readability of active colored tabs and pastel support in apple-pills style by choosing appropriate text-shadow
fixed "mail me" link on options tab

[Bug 24945] Removed Accelerator on quickFolders options button that cause QF options to come up when ALT+O was pressed
Fixed insufficient height of filter notification
removed legacy deprecated css attributes to its own style sheet
[Bug 25061] added checkbox so the "new subfolder" item can be disabled when dragging
removed any empty popup menus that may occur during dragging.
Completed pt-BR locale (thanks to Marcelo Ghelman)
Fixed zh-CN locale
changed color of bottom color to reflect background of active tab
in "bling my tabs" background colors now corresponds to last selected palette item.

This was one of the most difficult releases in the history of QuickFolders- I built and tested 476 (!) different versions before release. Most of this went into the coloring piece.

Complete overhaul of the palette - removed images for performance and completely redesigned Pastel style


Added paint mode - recent folders tab can now also be customized

select Paint Mode from the QuickFolders Tools menu:

select a color from the palette

paint your tabs!


added "use Palette" options for the status color choices (default, active, hovered, draggedOver)
Fixed synchronizing quickFilters status / notifications - please install my new extension quickFilters to get the full filter assistant. You can configure its (and QuickFolders) advanced filter settings through its option screen:

added "Pushbuttons" style
fixed some glitches that caused hovered & active folder to "push down" toolbar border.
more refinements for filters from the quickFilters project: use quickFilters settings for advanced naming conventions (parent folder, 1st condition value)




Important Productivity Notes - QuickFolders 3.0 and above

How to save more time filing away messages

Use QuickFolders for adding the top folders to the bar.
Create some Message filters by using QuickFolder's "Filter Teaching" tool. I have provided some detailed instructions here.
For even more filtering power, please dowload my new add-on quickFilters which integrates fully with QuickFolders and allows automatic creation of filters by dropping emails into the folder tree.
Use the "Copy Sent to Current" Add-on so you can answer emails directly from their filed away location; your emails will neatly stay within the conversation of whoever you are corresponding with.

Changes

New folder context menu button to current folder bar
New option to hide message navigation buttons ([P]revious unread, [N]ext unread, next [T]hread) from current Folder bar, as there are keyboard shortcuts ([P], [N], [T]) for these.
Added menu item for Search Messages to Folder commands menu
Localized Filter List additions
Improved & tightened Filter List layout, pre publishing the changes planned in Thunderbird [Bug 450302] New Feature in Filter List: added count of displayed filters (Thunderbird only)


Improved interactive icons
Fixed: unstyled buttons and missing border-radius in Thunderbird 13+ due to CSS deprecations
Fixed: [Bug 24864] "updateUserStyles - TypeError: ss.href is null" caused by the Rise of The Tools extension
Feature: [Bug 24715] Added main Toolbar toggle button
Folder categories - added ability to copy existing QF tab to a Category, without the message "Folder already has a tab", even if it has no category
Fixed [Bug 24894] in Postbox, dragging new folders to the QuickFolders toolbar was broken
Dropped support for Thunderbird versions previous to 3.1
Fixed regression (3.4) that caused unread count not to be updated anymore
Removed unnecessary console outputs
Removed styling hacks that looked like namespace pollutions
Updated Dutch and Hungarian locales

Feature: [Bug 24767] Use Right-click+Control to show QF commands popup.
Feature: [Bug 24766] Support MOVING folders by dragging them from foldertree to a QF location and holding down SHIFT (unfortunately at the moment this works only on Windows - somehow Tb doesn't detect the SHIFT state in Linux).
New Features in Filter List: added buttons for moving filters to top / bottom and a search box (Thunderbird only)
See also: [Thunderbird Bug 450302] There is no "filter searching" (to find a filter)

- this feature will be localized in the next maintenance release.
Fixed: [Bug 24736] fixed & simplified overlay for single Message window; fixed closing current folder bar in single message window
Fixed - if a Folder is renamed the corresponding Tab looses the connection leading to invalid / missing tabs
Folder categories - added ability to drag existing QF tab to a new Category, without the message "Folder already has a tab"
Added option for disabling current folder bar on single message window
Fixed: about:config (for advanced Debug and other hidden settings) used to be obscured behind the options dialog
stylesheet fix in seaMonkey
added border around the close button on the (filter) notification message to improve visibility
increased minimum width of label on Current Folder bar from 12 to 16em to avoid frequent resizing when browsing long-named newsgroups
improved overlay using messenger.xul instead of mailWindowOverlay.xul
Raised minVersion for Thunderbird to 3.1

Known Issues

[Bug 24864]: If the extension Rise Of the Tools is installed, the error "Quickfolders.updateUserStyles - error TypeError: ss.href is null" will be displayed. There will be a fix released shortly, in the meantime please disable Rise Of The Tools or download the prerelease attached to the bug.

"Filter Learning Wizard" - use the new Create Filter button to create mail filtering on the fly:

By simply dragging and dropping emails into the QuickFolder tabs (or menus), new filters can be generated. The neat new filter wizard window offers easy to use templates for managing new filters:

It will analyze the dropped email and prefill target folder (the folder which the filter should move emails to automatically) and various other fields depending on which template was selected:

You can then customise it for your purposes. Creating filters keeps your inbox clean. When using the "Copy sent to Current" extension, the filter will also move your replies from the Inbox into the target folder.
Thread Tools - added "mark thread as read" command on click. This is extremely useful when reading newsgroups or lots of group mail.
Reorganization of options window (split first page into General and Advanced)
Made some current folder tool buttons and mail context menu items configurable
Some (but not all) of the layout changes can be previewed instantly (WIP)

The version history for 2.13 and older can be found here.
The quickest way to contact me (apart from filing a bug report): Right-click the QuickFolders toolbar, select QuickFolders support, then click the last button: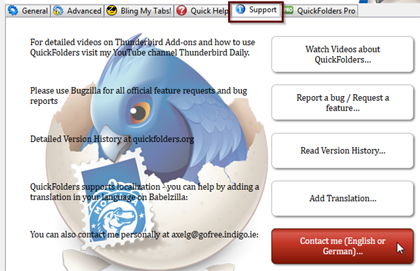 Or click below to send an email
quickFilters
quickFilters (Thunderbird) Quickly generate mail filters on the fly, by dragging and dropping mails and analyzing their attributes.
Zombie Keys
Zombie Keys for Firefox / SeaMonkey ; Zombie Keys for Thunderbird / Postbox

Entering European languages (which include diacritics (accented characters, diaeresis, umlauts, etc.), ligatures, the Euro sign, etc.) into Mozilla applications using a non-native keyboards doesn't have to be a pain any more!
QuickPasswords
QuickPasswords for Firefox / SeaMonkey; QuickPasswords for Thunderbird / Postbox
this is a very neat and quick way to retrieve and use a growing number of passwords, without displaying them on screen or having to re-type them. Also supports renaming of multiple passwords!
SmartTemplate4
SmartTemplate4 offers an easy way to customize Thunderbirds default quote header by using templates. Templates can be created for every account as well as for global settings (for all email accounts).